ABOUT US
We combine the best of skills from the two worlds "Development" and "Business" .
Together with you we turn our knowledge in business and IT into measurable success .
We are precise, proactive and act with integrity at all times.
We are a Microsoft Gold Partner: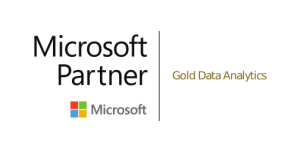 WHAT WE DO
Ever since digitalization began to accelerate continuously, data and efficient data-based knowledge acquisition are a central success factor for companies that want to hold their own in the markets of today, tomorrow and beyond.
Against this background, we develop intelligent and simultaneously implementable Business Intelligence solutions together with our clients, which enables efficient and data-based decision making. Our Business Intelligence solutions help to find data-based answers to how something has developed, why something has developed in a certain way and what the expectations might be for future development.
With an understanding of "HOW" and knowledge of "WHY" in the form of positive and negative drivers, the basis for data-based decisions and value-adding corporate management is created – completely in line with our claim "From Data to Insights to Value".
In this context, we connect various data sources (from SAP to Excel files), automate their processing and present the analysis results in intuitive visualizations. The manual, error-prone effort which goes into generating reports is eliminated and free capacities for the interpretation of results and data-based decision making are created.
WHO WE ARE
We are a highly motivated team of specialists who use our interdisciplinary know-how to successfully develop industry-specific solutions based on the latest technologies. We combine the best of our skills from the worlds of "development" and "business":
DEVELOPMENT
Our team has in-depth expertise in the areas of data science, data integration, data modeling and artificial intelligence, enabling us to exploit the full potential of your data according to your requirements. Together we have over 100 years of development experience.
BUSINESS
Through many years of experience in top-tier management consulting, we understand the relevance of fast, data-based insights for decision making. We know which key performance indicators (KPIs) are relevant for successful management and how decision makers can be successfully supported with management cockpits tailored to the target group.
We therefore have an understanding of what drives your business on a daily basis, as well as how to quickly and efficiently extract value-adding insights from your data in order to systematically advance your business. Together with you, we translate our knowledge in business and IT into measurable success. We act proactively with integrity and precision at all times.
HOW WE WORK
Just like our skills, our work approach is interdisciplinary. We offer holistic consulting accordingly, combining both business and development perspectives. The starting point here is always the definition of the target image from a business perspective, i.e. a management cockpit with target group-specific key performance indicators (KPIs), associated detailed analyses and the benefits generated from them (e.g. new insights, resource savings, etc.). Once the target image has been defined from a business perspective, a feasibility check from a data and IT perspective is carried out before the development team can implement it. The solutions developed in this way are tailor-made and adapted to your actual needs.
In all projects, we pursue the goal of enabling data and analysis-related self-service with BI solutions. This means that all solutions are designed to give you as a company the right tools to get the most out of your data and to avoid time-consuming manual evaluations.
Depending on your own capacities, you are free to decide when and for how long you want to use us as consultants and analysts for your data sets – we stand for maximum effect with minimum risk.